New Zealand's newest Great Ride
One of the best things to do in Rotorua is to ride the new Whakarewarewa Forest Loop.
The Loop is a 33km circular, one-way mountain biking trail located in Whakarewarewa Forest (aka The Redwoods) just 10 minutes (by car) from the city centre, making it super quick and easy to get to and fit around your other sightseeing activities.
Being mostly a Grade 2 track with a couple Grade 3 sections mixed in, the Loop is designed to be accessible for people of almost all ages, abilities and fitness levels, as long as you're a confident rider.
The trail has been receiving rave reviews. Riders love the variety of uphill, downhill and flat sections interesting, fun and fairly easy to navigate.
If you've got a limited timeframe, have the kids with you, or just want a small taste of the trail, a few other trails intersect with the Loop, providing exit points along the way. We suggest grabbing a trail map from Mountain Bike Rotorua (you'll find them at both main mountain bike hubs/entry points) and some advice from them so you know which trails will take you in the right direction AND suit your riding abilities in regards to trail elevation and length.
Plan your ride
The trail should take you between two and a half to five hours, depending on your pace. You'll also want to factor in some time to stop and take in the sights at purpose-built points along the way that reveal stunning views. They also provide a great opportunity to rest and rehydrate.
It'll take even less time to complete the Loop on an electric bike and the trail is perfectly suited for them. Just ensure your e-bike is fully charged, and off you go.
If you find you're running low on water or energy bars, you'll be happy to know that along the trail there are a couple spots to purchase food and drinks (hours vary), taps to refill water bottles, and three accessible toilet blocks.
Enjoy the Loop?
Tell us what you think about your ride on Whakarewarewa Forest Loop and go in a monthly prize draw to win the new Bikepacking Aotearoa book by The Kennett Brothers!


Frequently Asked Questions
How long does it take?
The trail should take you between 2.5 to 5 hours, or a bit less on an e-bike. These times will vary based on your pace and how often you stop.
Can I ride an e-bike on the trail?
Absolutely! Electric- and human-powered mountain bikes are both welcome. Both types of bikes are available for hire from Planet Bike and Mountain Bike Rotorua if you don't have your own. NOTE: There are currently no bike charging stations available.
Is there drinking water available along the trail?
Yes, locations for water, as well as food*, are sign-posted on the main map boards.
Where can I park and start the trail?
We recommend starting at either Te Pūtake o Tawa carpark on Tarawera Road, or Waipa carpark off State Highway 5, as both hubs offer plenty of car parking. You can also find bike rental outlets* and services, bike wash stations, shower and toilet blocks with accessibility features, and coffee and food vendors* here.
*Days and hours vary.
Is the trail open year-round?
YES! Like all mountain biking and walking trails in Whakarewarewa Forest, the Loop is available to ride all year.
The forest canopy helps shelter you from cold winter winds and the hot summer sun. The volcanic soil throughout the forest benefits from great drainage, so even after a heavy rain, the trails are rideable shortly afterwards.
It's important to note that due to being situated within a working forest, the trail may have variations from time to time if logging, planting or other work is taking place. Obey all trail signs and instructions.
BEFORE you head out, always check for trail updates, closures or detours before you ride, to avoid disappointment or surprises. Trailforks is an excellent source of the most up-to-date information on all of the forest's trails.
Will I have mobile phone coverage?
Roughly 80-85% of the trail has mobile phone coverage. One area that can be patchy is around Te Kōtukutuku/Rotokākahi trail.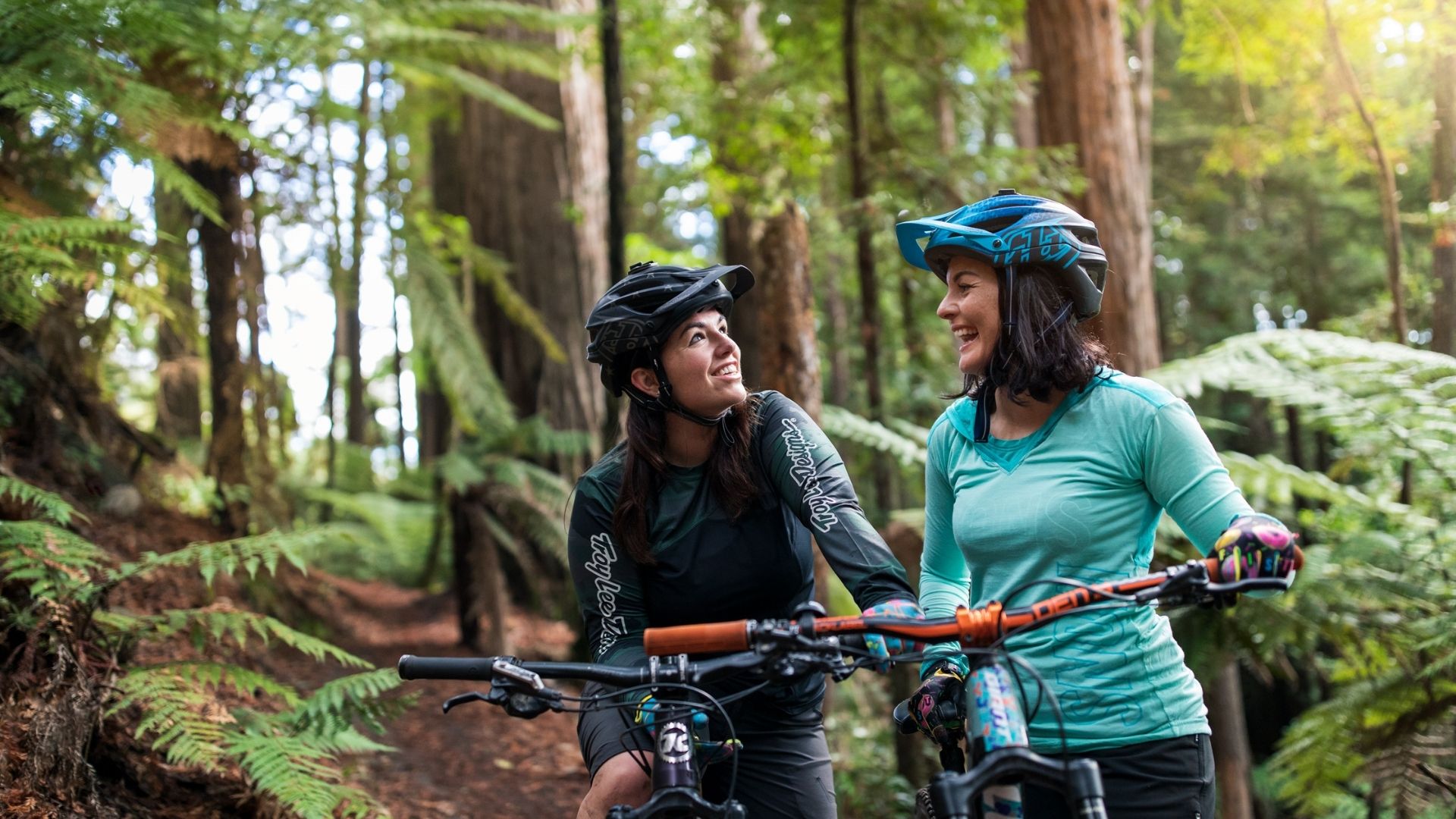 Whakarewarewa Forest Mountain Biking
Whakarewarewa Forest, also known as the Redwoods, is a mecca for mountain bikers, with 200km of trails winding their way through native and exotic forest.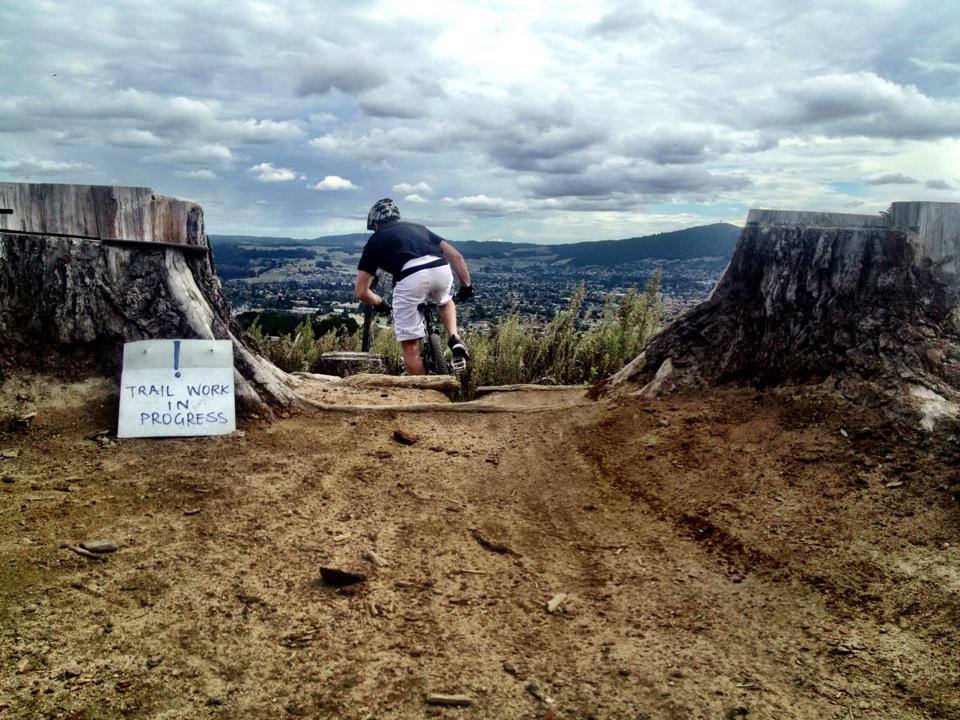 Mountain Bike Rotorua
Mountain Bike Rotorua is your gateway to Whakarewarewa Forest, the stunning jewel in the crown of the adventure destination that is Rotorua. Located in the forest itself, the friendly team at the MBR base has everything you need to get biking.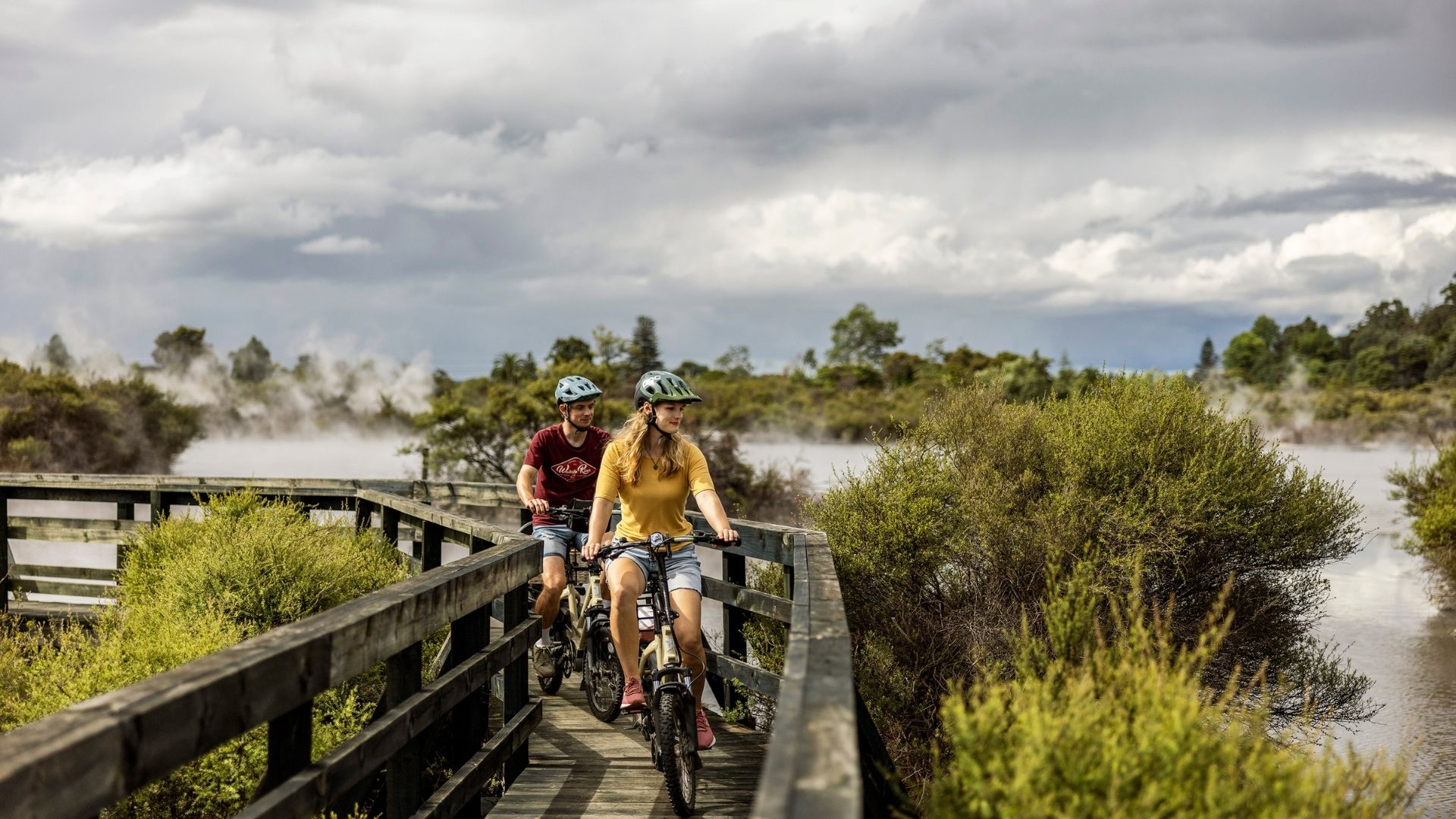 Electric Bike Rotorua
Explore Rotorua and experience the thrill of an electric bike doing the work for you while you check out Rotorua – and help save the planet at the same time!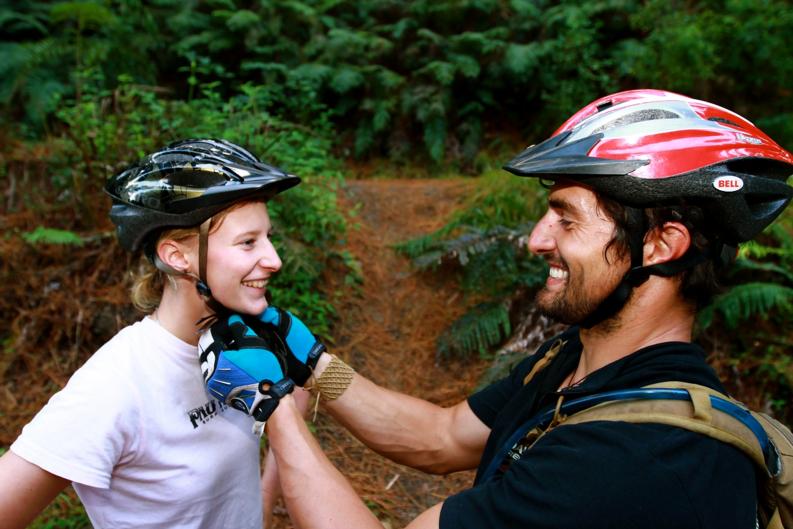 MDA Experiences
MDA's exclusive tours create the perfect excursion tailored to guests, including a personal guide and outstanding adventures in the outdoors.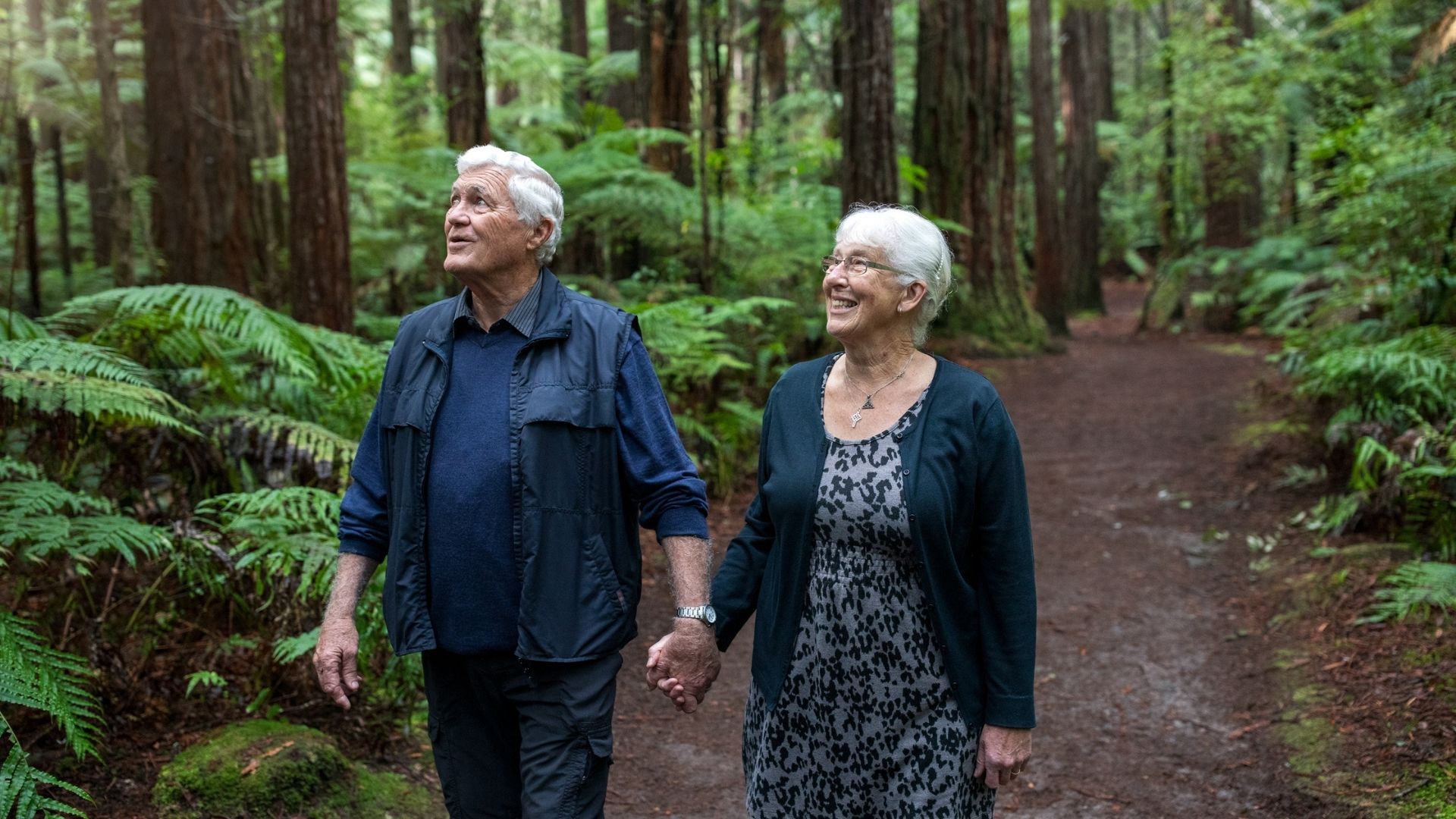 Whakarewarewa Forest Walking Trails
The walking trails in Whakarewarewa Forest, or "the Redwoods", start at the Redwoods i-SITE Visitor Information Centre where you can pick up a map before exploring the forest.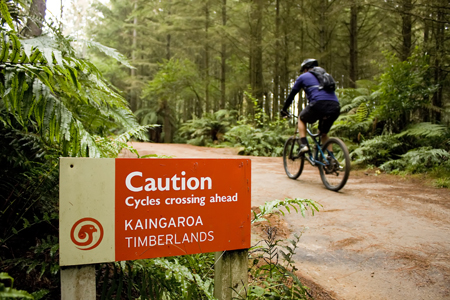 Planet Bike
Planet Bike offers freedom bike hire, mountain bike tours for first timers to expert, bike fixes, Bike Bitz'n spares, trail information and maps, as well as 'Coffee 2 go'.
Our stories
Great places to eat, drink and have fun.
Visitors' stories
Check out what some of our visitors have gotten up to.