Vote for Rotorua's best Matariki dish in the country's must-visit Matariki destination


The Rotorua Matariki Dish Challenge and Food Trail is on now!
Taking place now until Sunday, 17 July, the first-ever Rotorua Matariki Dish Challenge and Food Trail aims to highlight the unique New Zealand celebration of Matariki, along with amazing food stories.
The event encourages our chefs to learn about the significance of this time of year and create a dish that demonstrates what Matariki means to them – whether by highlighting our indigenous ingredients, showcasing traditional Māori cooking methods and foods, telling a visual story through plating, or all of the above.
Nearly a dozen eateries, including an upmarket fish and chips shop, have jumped at the chance to show you what they've got, resulting in the largest Matariki food trail in New Zealand!
Vote for your favourite! We invite you to make your way around to these dining establishments, try their special Matariki dishes, and vote for your top dish by using the QR code at your table. Nourish magazine will select the winners of the challenge, and announce the People's Choice winner.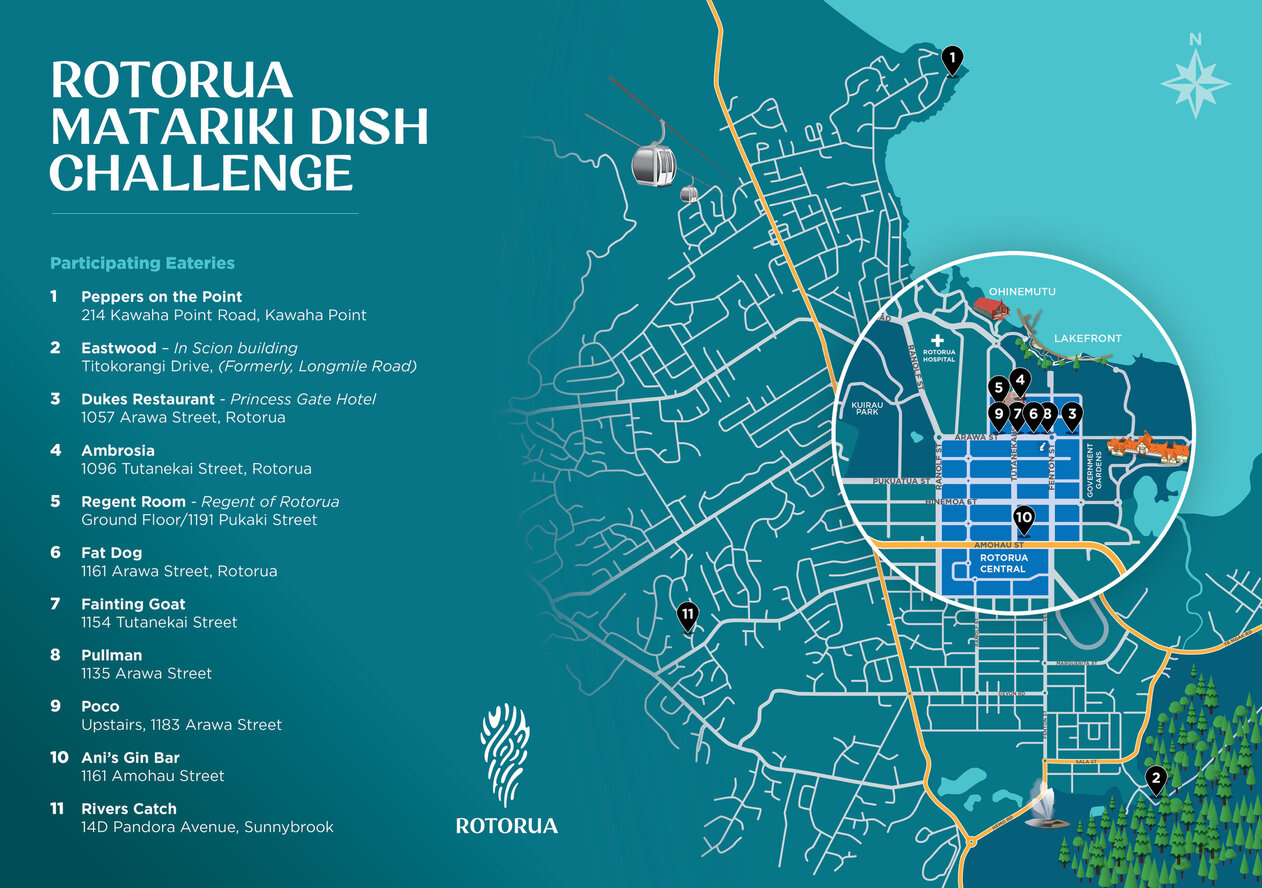 Sign up for matariki newsletters!
Sign up for Matariki newsletters and event information using the form below.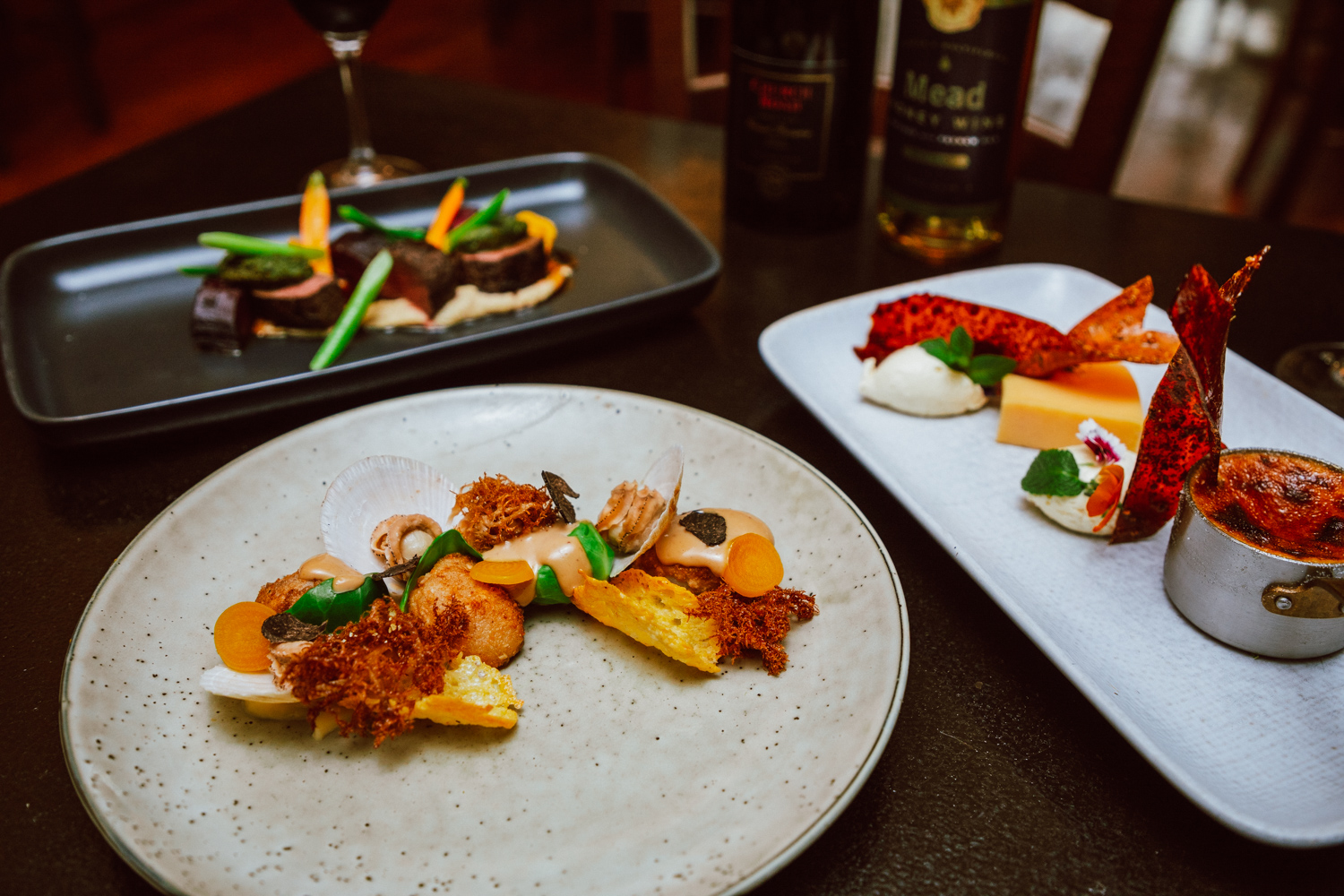 Ambrosia - Mai te Pāmu ki te Pereti
Mamaku venison, kākano harekeke and foraged Mamaku kawakawa pesto, celeriac puree, hāngī purple potato, Lux Organics, micro greens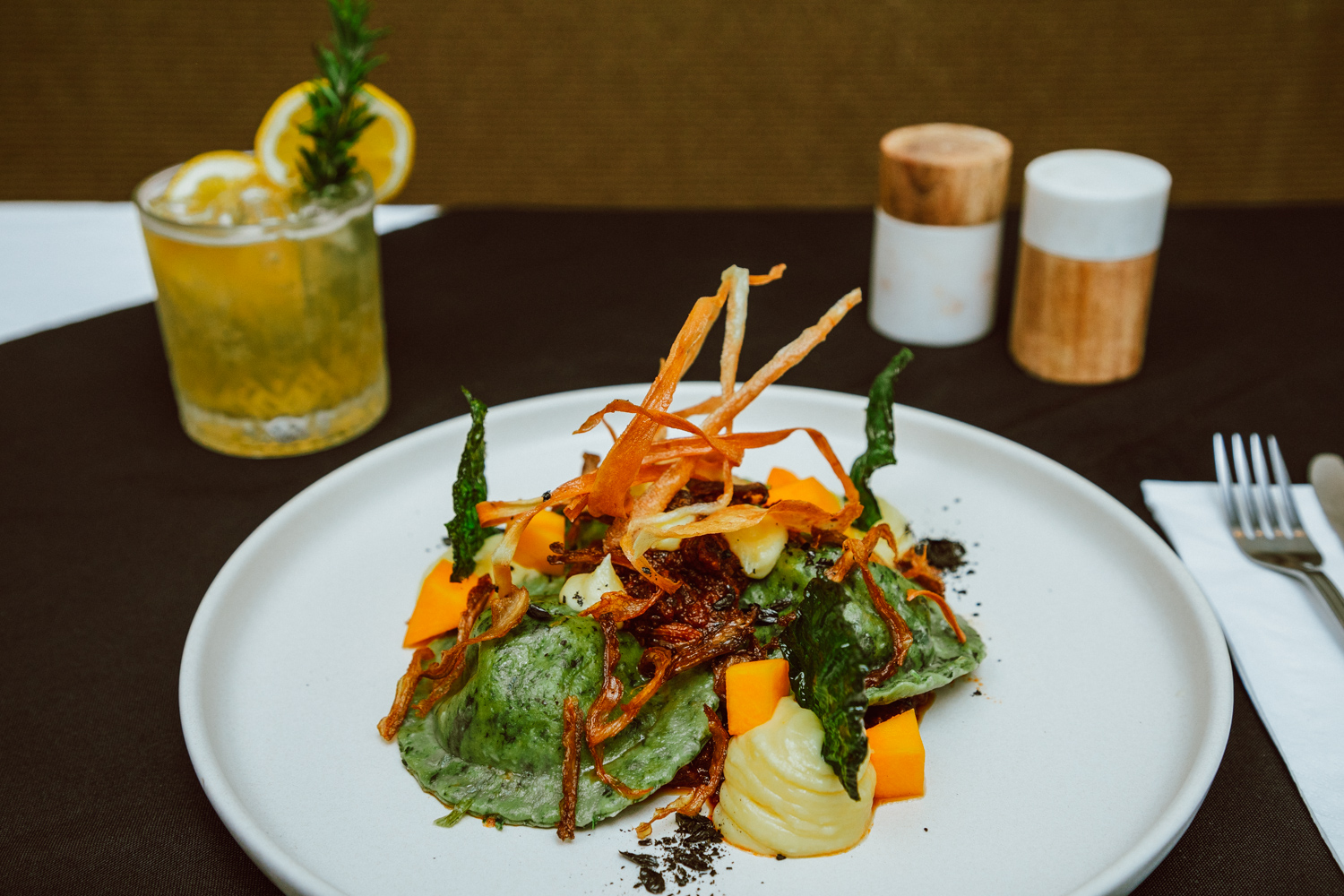 ANI's Gin Bar & Tapas Restaurant - Ngā Taonga o te Whenua
Puha pasta sheets filled with foraged mushrooms, harakeke and ricotta to make raviolo sized ravioli, tossed in a venison shank and horopito ragu and served with pickled pumpkin, parsnip puree and finished with crisp garnishes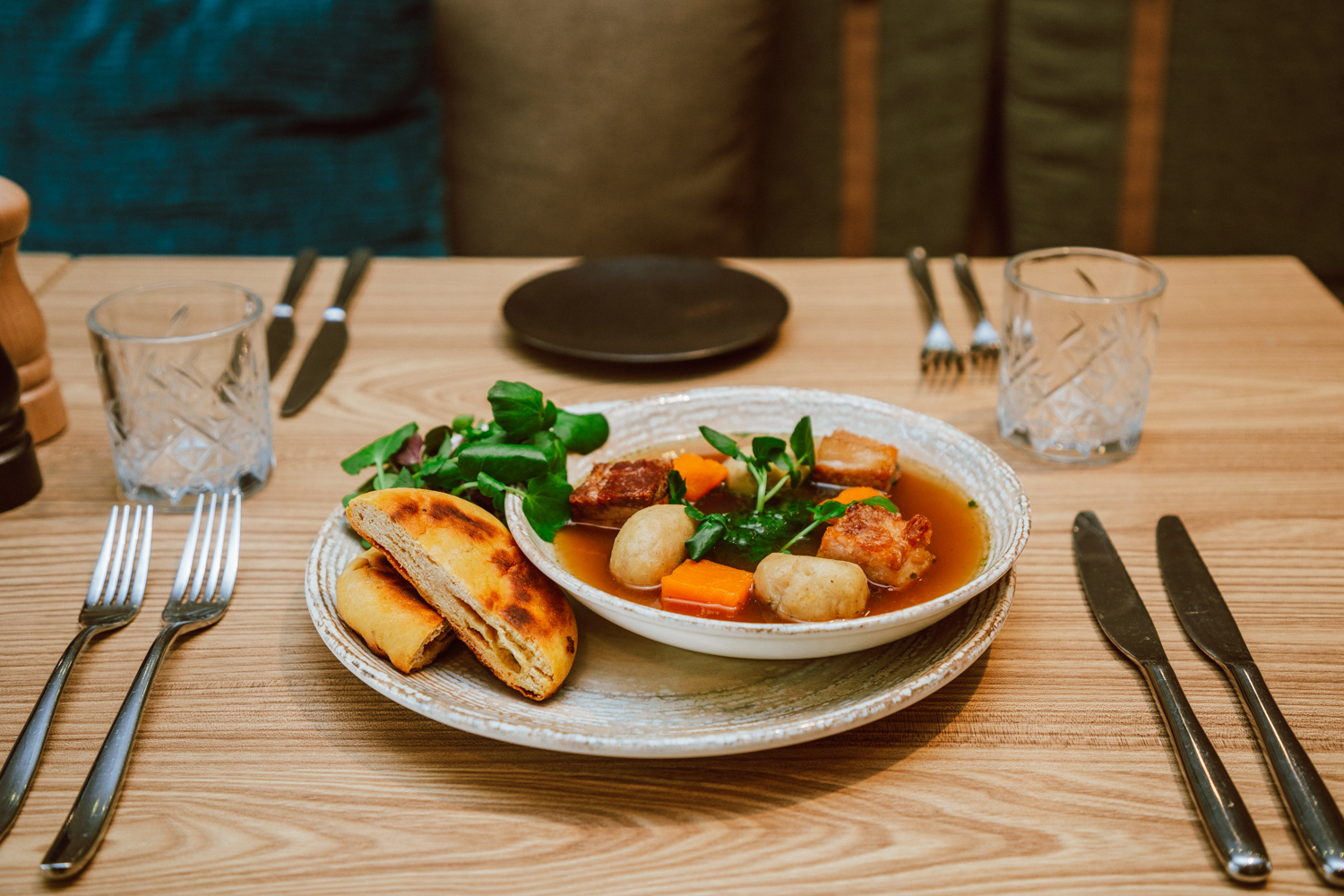 Barrel & Co at Pullman Rotorua - Pork Boil Up and Rēwena
A take on the pork boil up and rēwena flatbread with a bit of a twist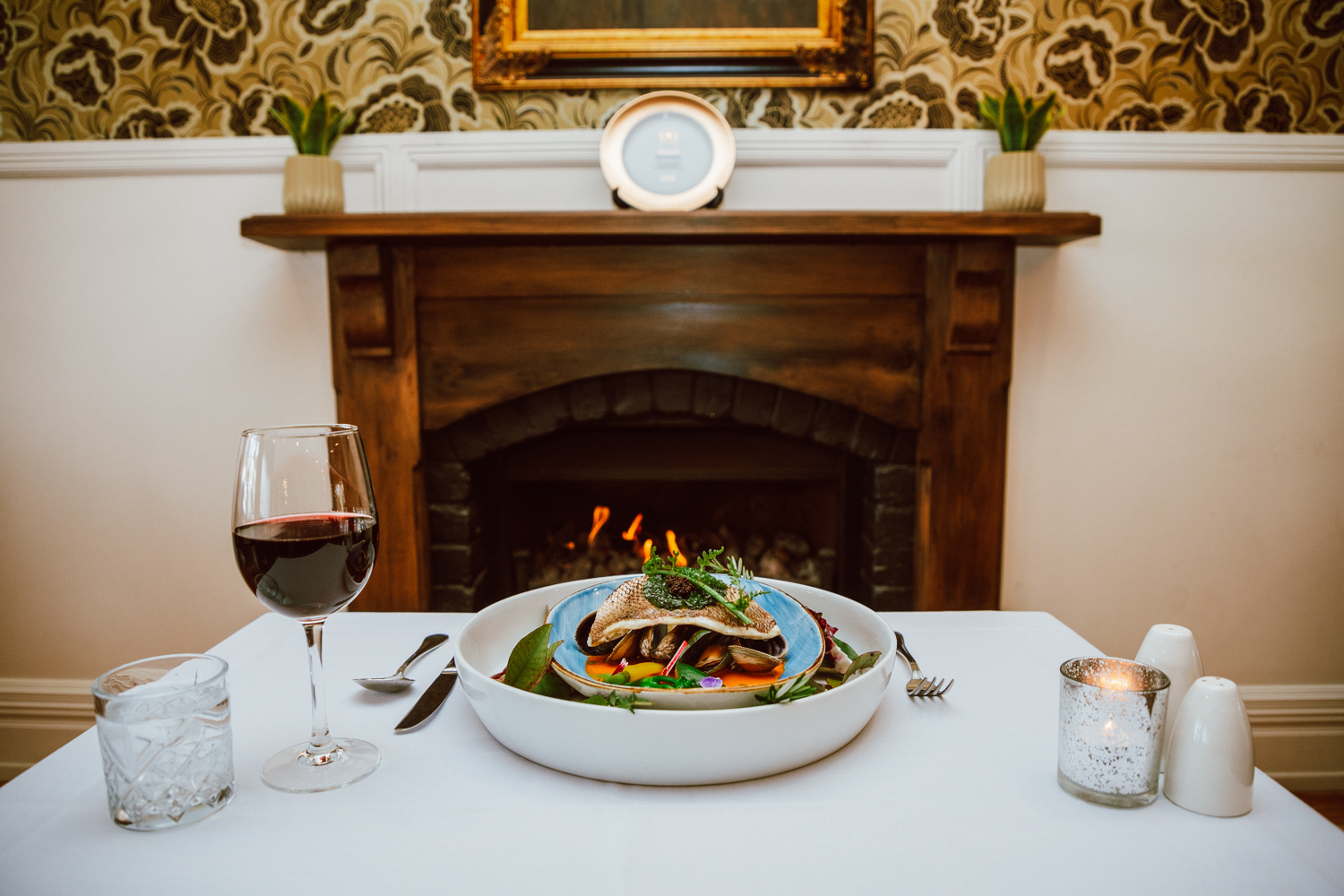 Duke's Bar & Restaurant at Prince's Gate serves He Ika e Hoputia e Te Taura
Line caught fish with steamed tuatua clam and green-lipped mussel served on lobster bisque sauce with Kinaki Rotorua pikopiko, exotic mushrooms, hāngī potato, lumpfish caviar garnished with dehydrated Kinaki Rotorua Kawakawa Crisp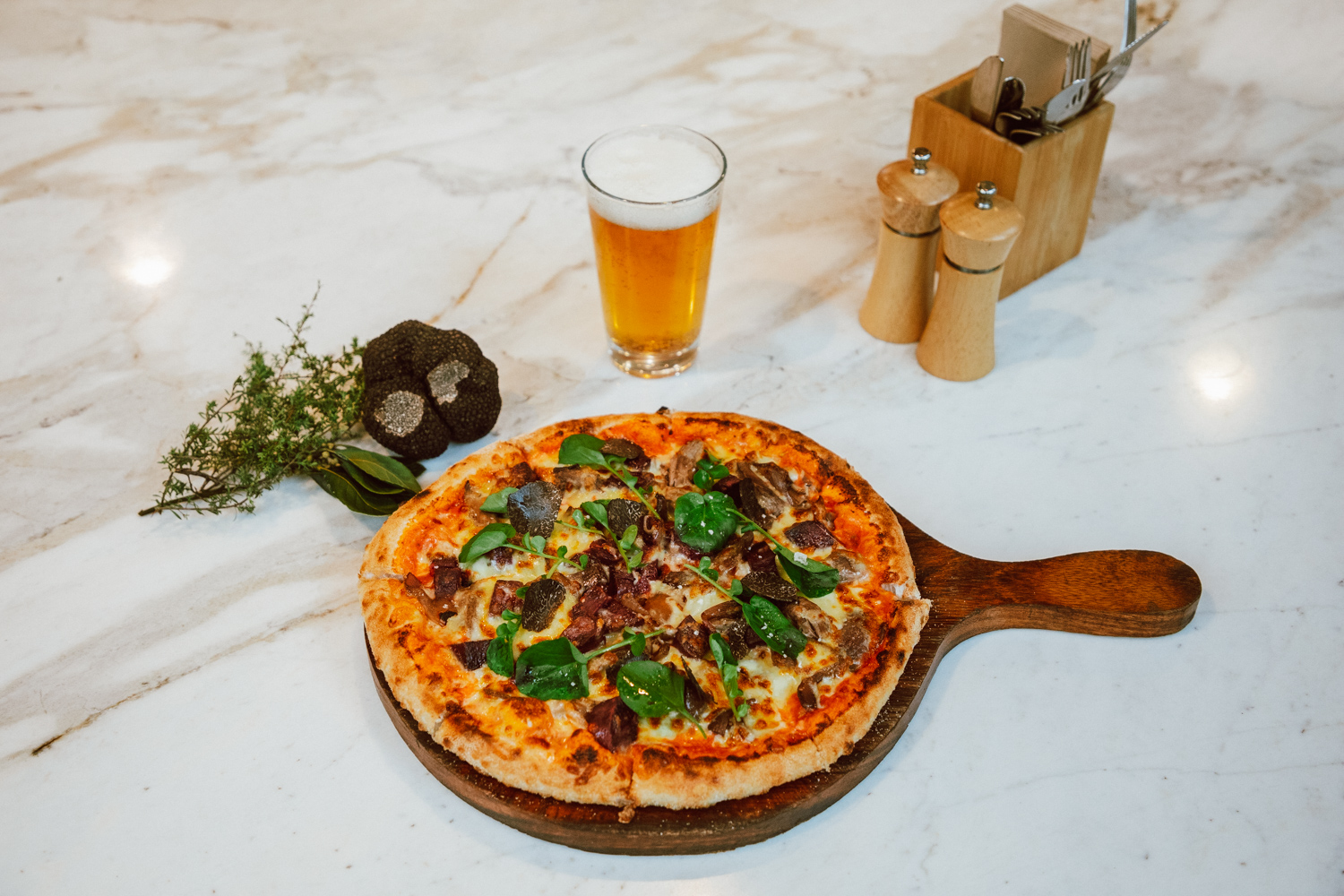 Eastwood serves Te Reme o te Rangi
Wood-fired pizza, Terrace Kitchen manuka-infused lamb, pizza sauce, roast purple kumara, fresh watercress, shaved Omania Farm truffles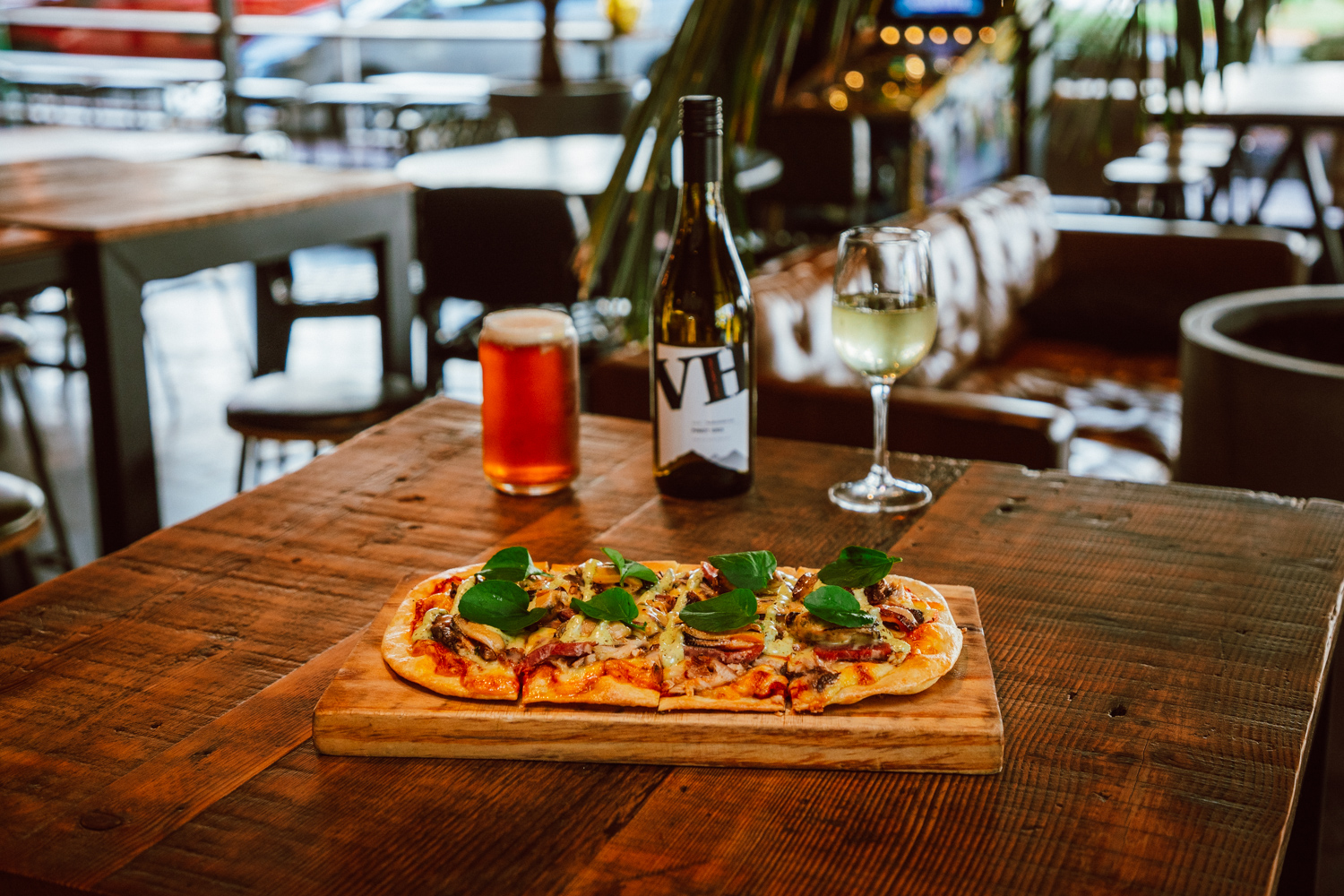 Fat Dog Café serves Matariki Eggs Bene/Matariki Hua Bene
Your choice of either Katikati smoked kahawai or seasoned sous vide pork belly with free-range poached eggs, set on Aunty Ma's handmade rēwena bread, topped with a Kinaki Wild Herb kawakawa-infused hollandaise, finished with watercress oil and tips and served with Fat Dog's own homemade rosti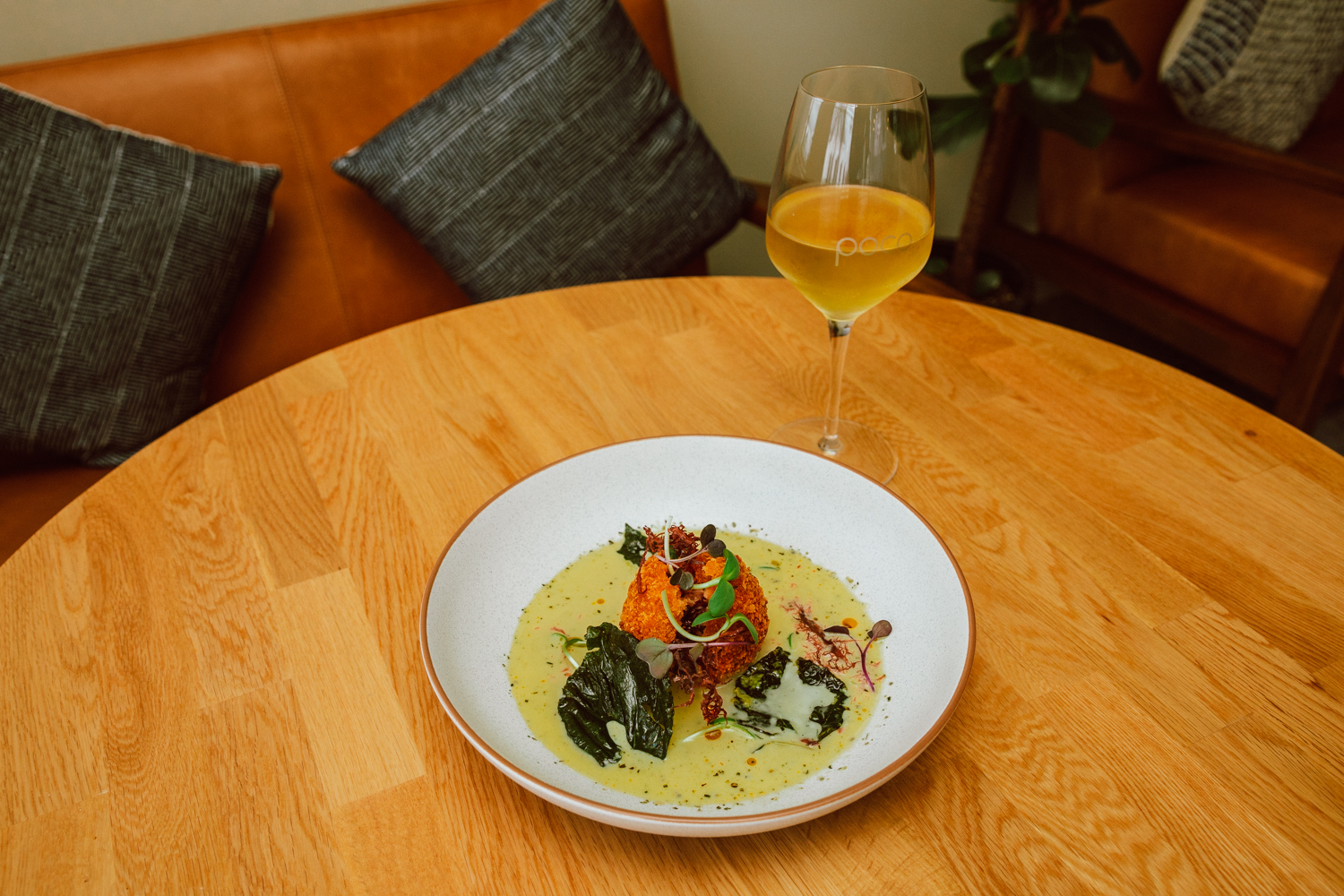 Poco Tapas & Wine serves Moana me Whenua
Lux Organics beetroot cured warehou, Tikitere Farm kumara brandade, with kina butter, Lux Organics micro-greens, red kelp in a fragrant Pink & White Gin broth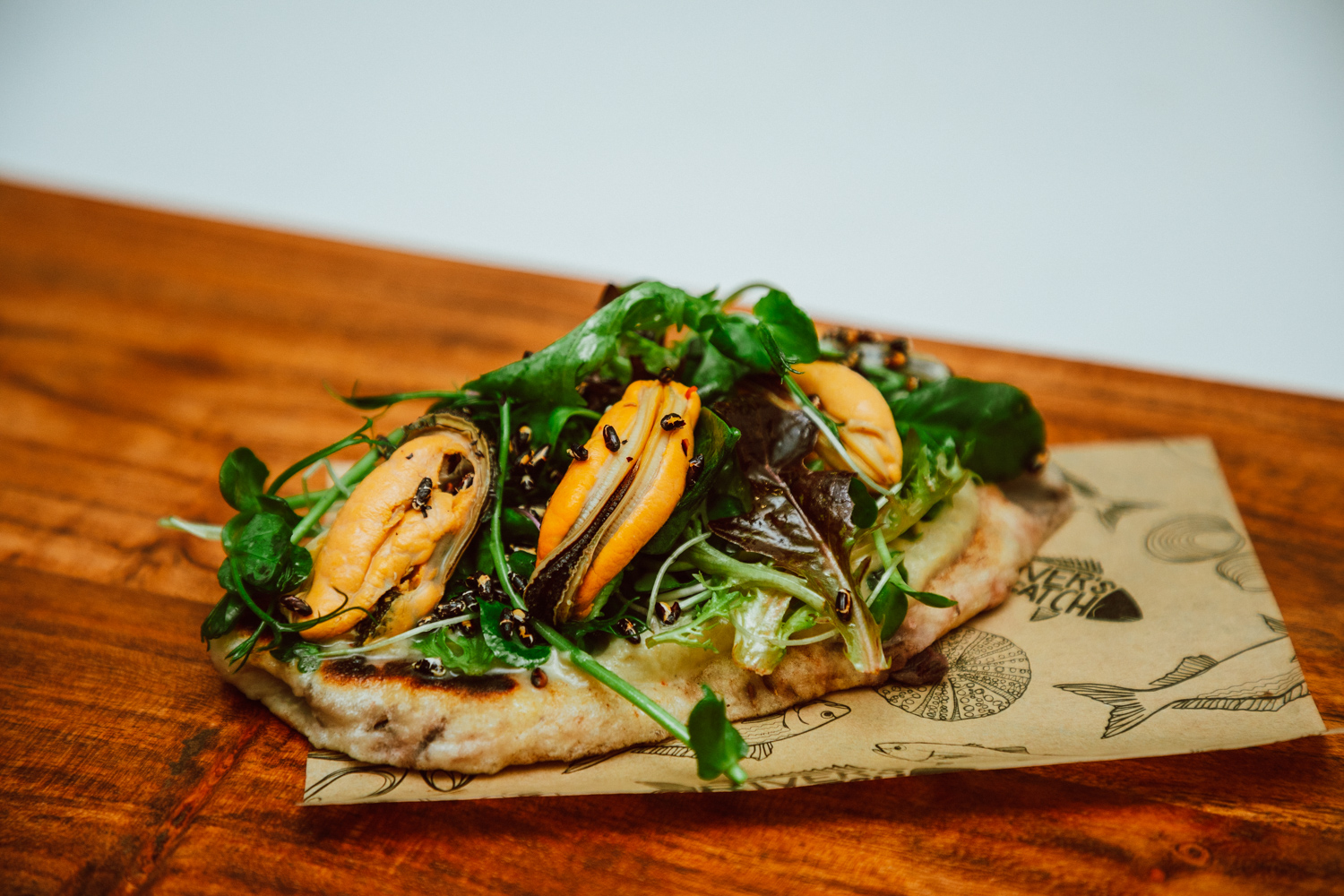 River's Catch serves Whitu
Pickled New Zealand mussels, Treetops Lodge manuka honey and eggplant hummus, Lux Organics purple potatoes, served on rēwena flat bread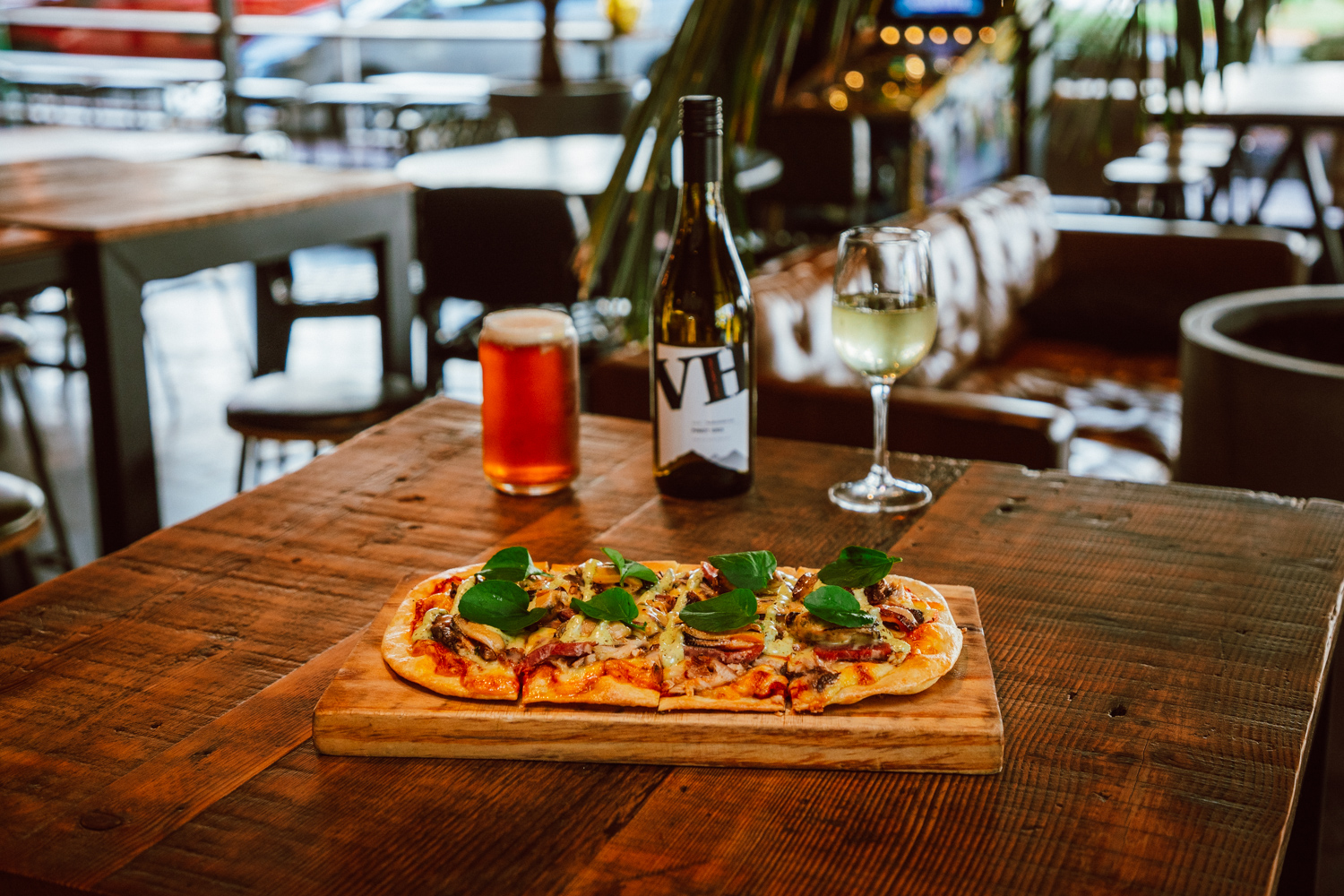 The Fainting Goat serves Land & Sea Gourmet Pizza/Pita Kaimoana Whenua me te Moana
Creamy garlic New Zealand green-lipped mussels, Katikati Fisheries smoked kahawai, sous vide bacon hock with a tomato and Kinaki Wild Herb karengo sauce base, and finished with watercress aioli and tips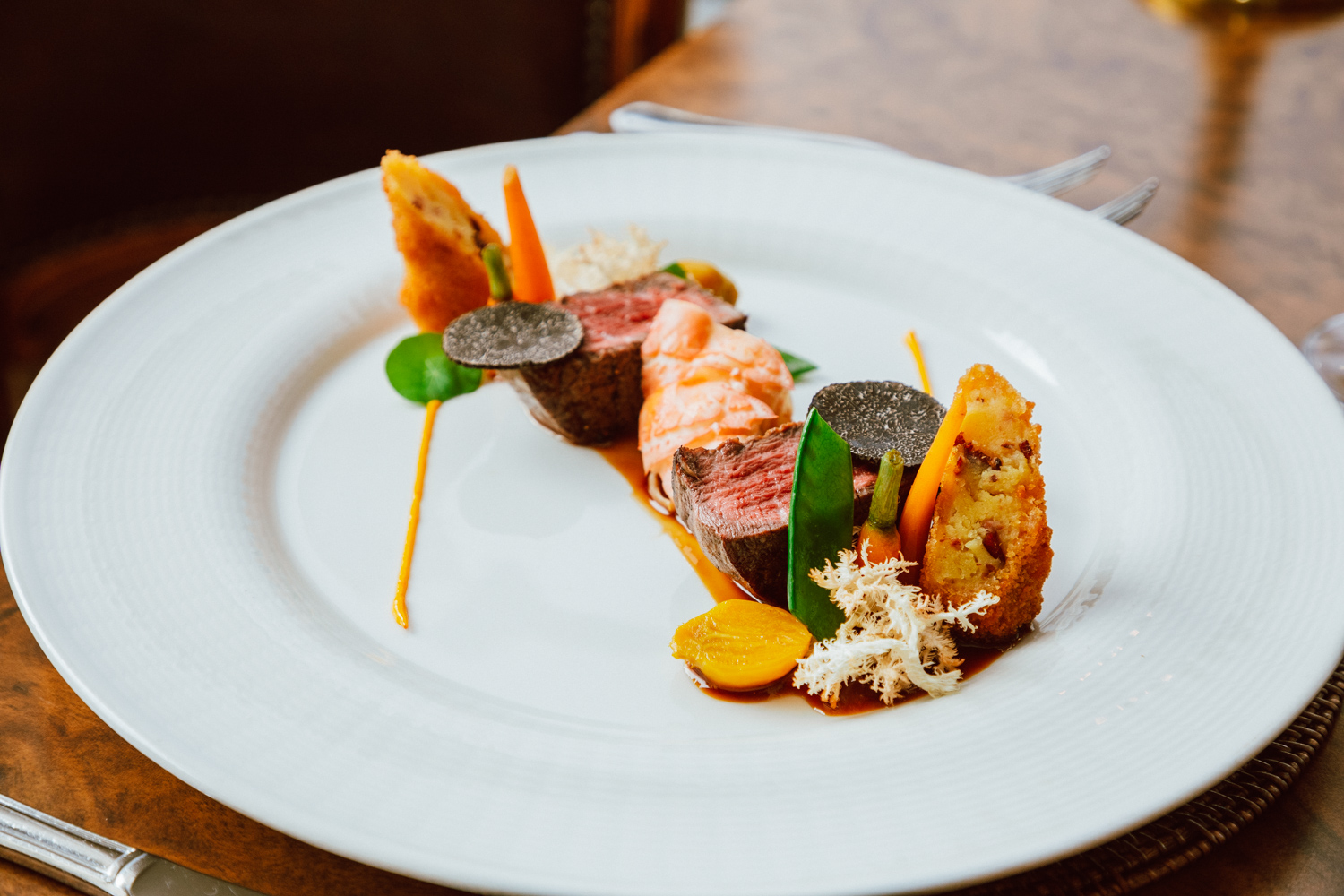 The Mains at Peppers on the Point serves Aotearoa Basket
From tipuānuku (land) Southern Pure eye fillet, topped with Ohiwa Black Diamond fresh truffle grown in unique volcanic soils, accompanied by crayfish tail from the waitā (sea), Pekepeke-kiore mushroom from Tony Smith, curator of gourmet mushrooms of the Whakatāne region, bacon croquette, served with a light café jus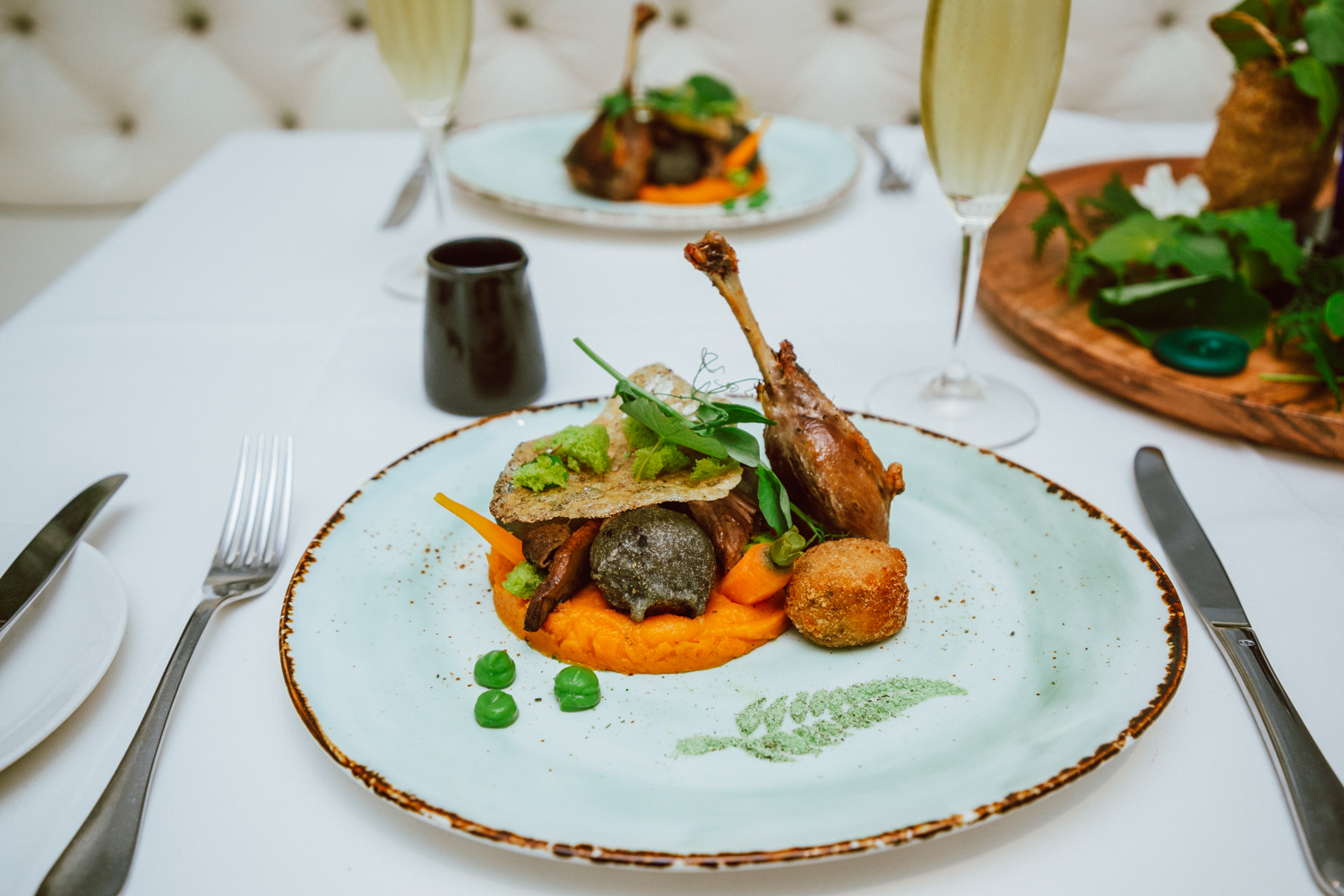 The Regent Room at Regent of Rotorua serves Rangi a Whenua
Confit Kinaki Rotorua horopito duck leg served with kumara, local foraged pickled pikopiko and wild mushroom, pea, kawakawa and herb sponge, mushroom crisp and smoked gourmet potato pebbles
Paired with a delicious dry Volcanic Hills Winery Blanc de Blanc