10 Great Rotorua Rides
Some of the best mountain bike trails in Whakarewarewa Forest
Does everyone in Rotorua love mountain biking?
The short answer is basically YES!
The longer answer is because... There are approximately 200km of expertly built trails crafted to suit every kind of rider, from absolute beginner (including a Kid's Loop and New Zealand's newest Cycle Trails Great Ride), through to extreme downhill competitors, and for any age and fitness level. You don't need any special equipment, simply hire a helmet and bike (including electric mountain bikes) from one of the local bike shops, grab a trail map, and you're away. The trails are FREE to access, thanks to the local iwi landowners. You can ride year-round and even at night (yes, that's a thing!). Convinced yet?
We're sure that once you try it yourself, you'll quickly see why most people become instantly hooked and why mountain bikers from around the world flock to the world-renowned hero dirt in Whakarewarewa Forest.
Keen to started? Great! Have a look at the list below of the 10 best trails that mountain biking guru, local legend, NZO founder and all-round good guy Gary "Gaz" Sullivan suggests, based on his decades of riding.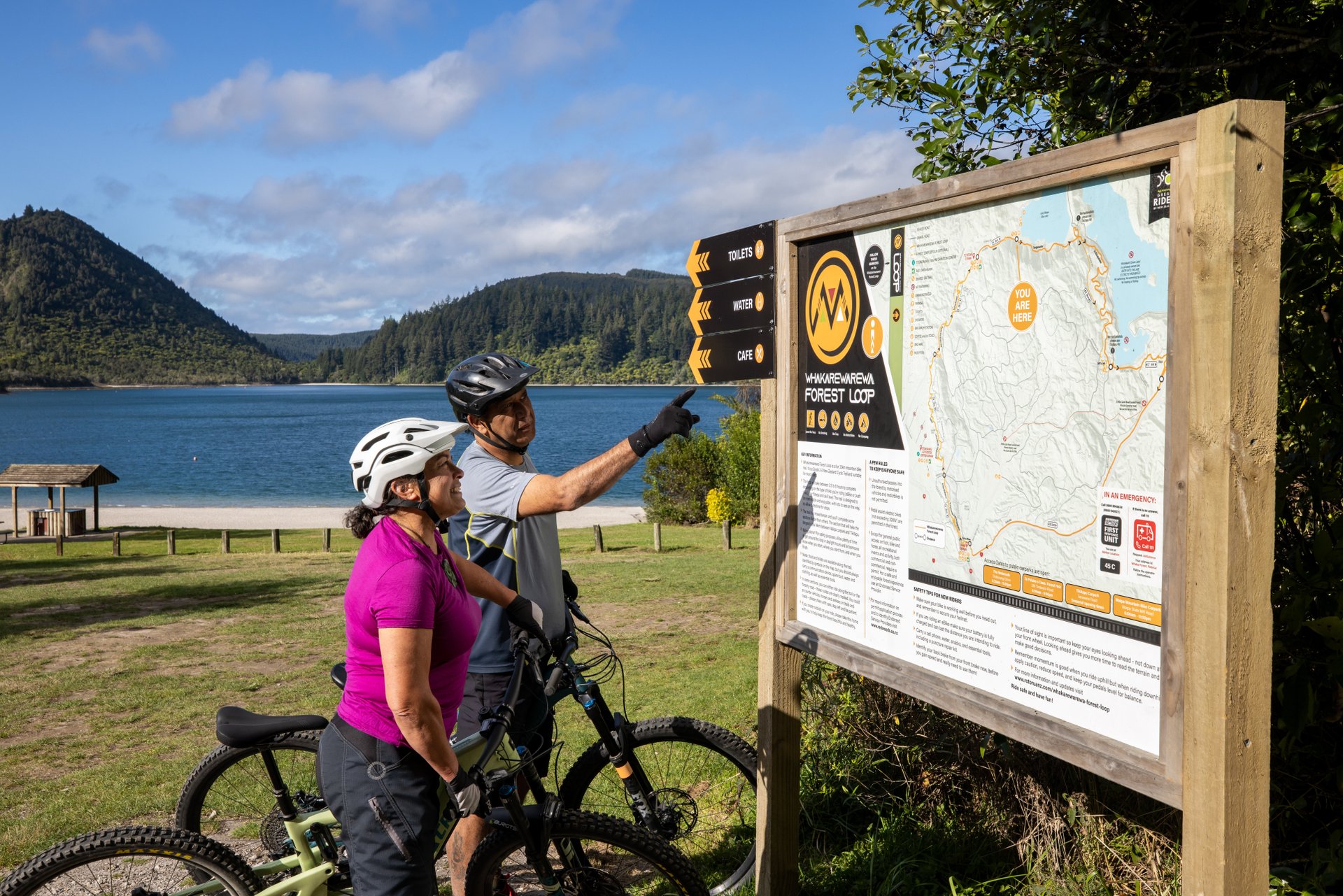 1. Whakarewarewa Forest Loop
33 km, Grades 2 & 3
New Zealand's newest Cycle Trail Great Ride takes riders on a full circuit of Whakarewarewa Forest, via purpose-built trails that are easy and fun to ride.
Just about anybody can tackle this route which is mostly Grade 2, with a couple sections Grade 3. The Loop can be accessed from Waipa car park on State Highway 5 not far south of Rotorua, or Te Pūtake o Tawa carpark on Tarawera Road just south of the Ōkāreka turnoff. There are toilets and showers at both access points, and on weekends you will find food, coffee and other necessities.
Short sections of the trail are two-way and signposted. Please take care here, expect riders coming towards you, and be particularly alert on corners.
Along the trail, you'll experience a range of forest types, and will be rewarded with fantastic views of three lakes: Rotorua, Tikitapu and Rotokakahi.
If you're a beginner, and taking it slow, allow a full day for this ride. You'll want to relax in a few places along the way, and no doubt enjoy the amenities en route or afterwards.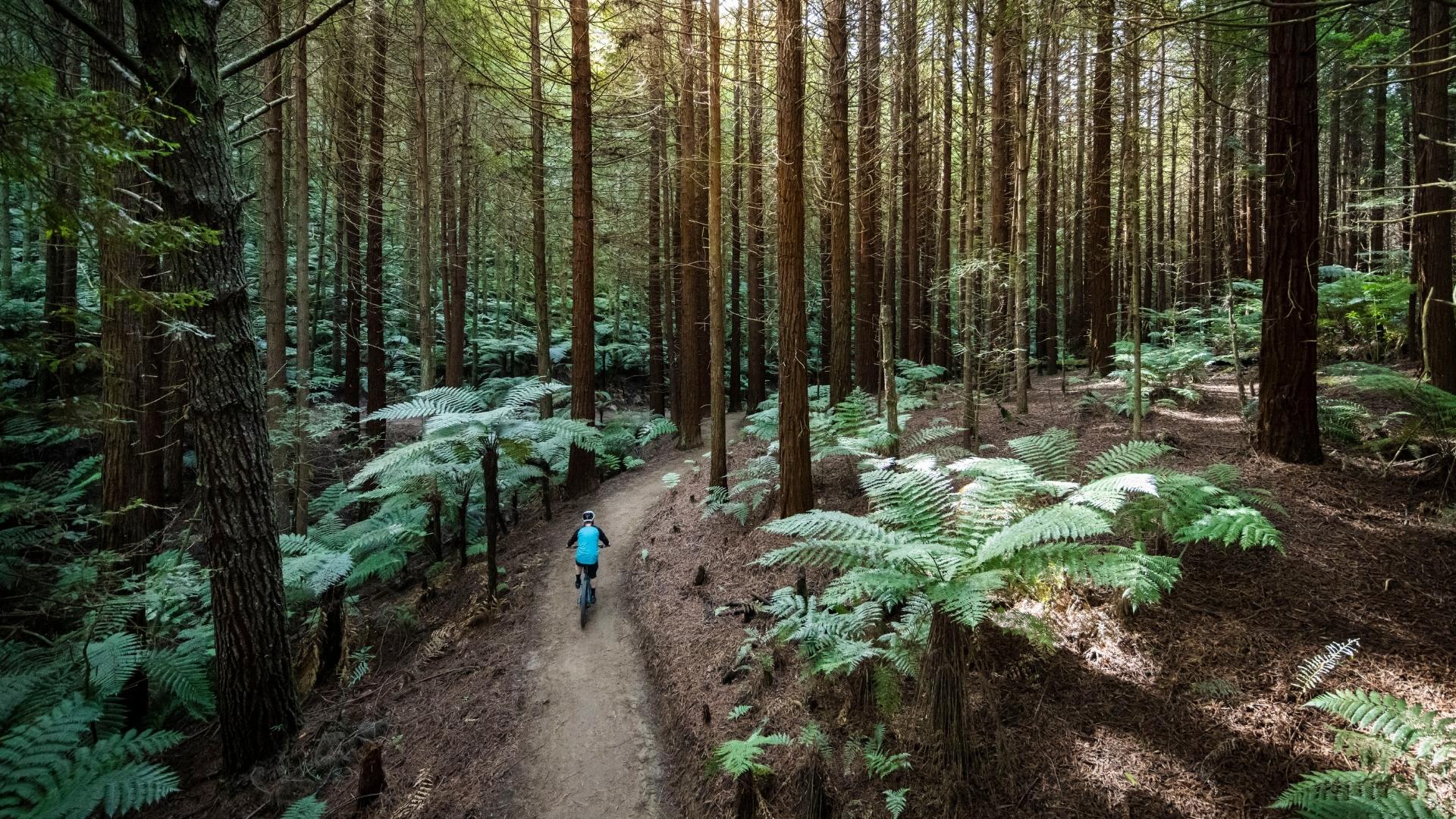 2.
Climb Apumoana & fly down Te Poaka
2.4km, Grade 2
Apumoana is a gently climbing trail through big pine trees, accessed from the part of Windy Road included in the Whakarewarewa Forest Loop. A mellow gradient takes you to the start of Te Poaka.
Apumoana is crossed by a couple of expert-only trails, which are well signposted, so keep an eye out for other riders. Take a look at them on your way up, but don't be tempted to try them unless you are very sure of your abilities.
Te Poaka is a real roller coaster of a trail – it's easy to ride but also very easy to pick up speed. Please take it slowly until you have tried it a few times.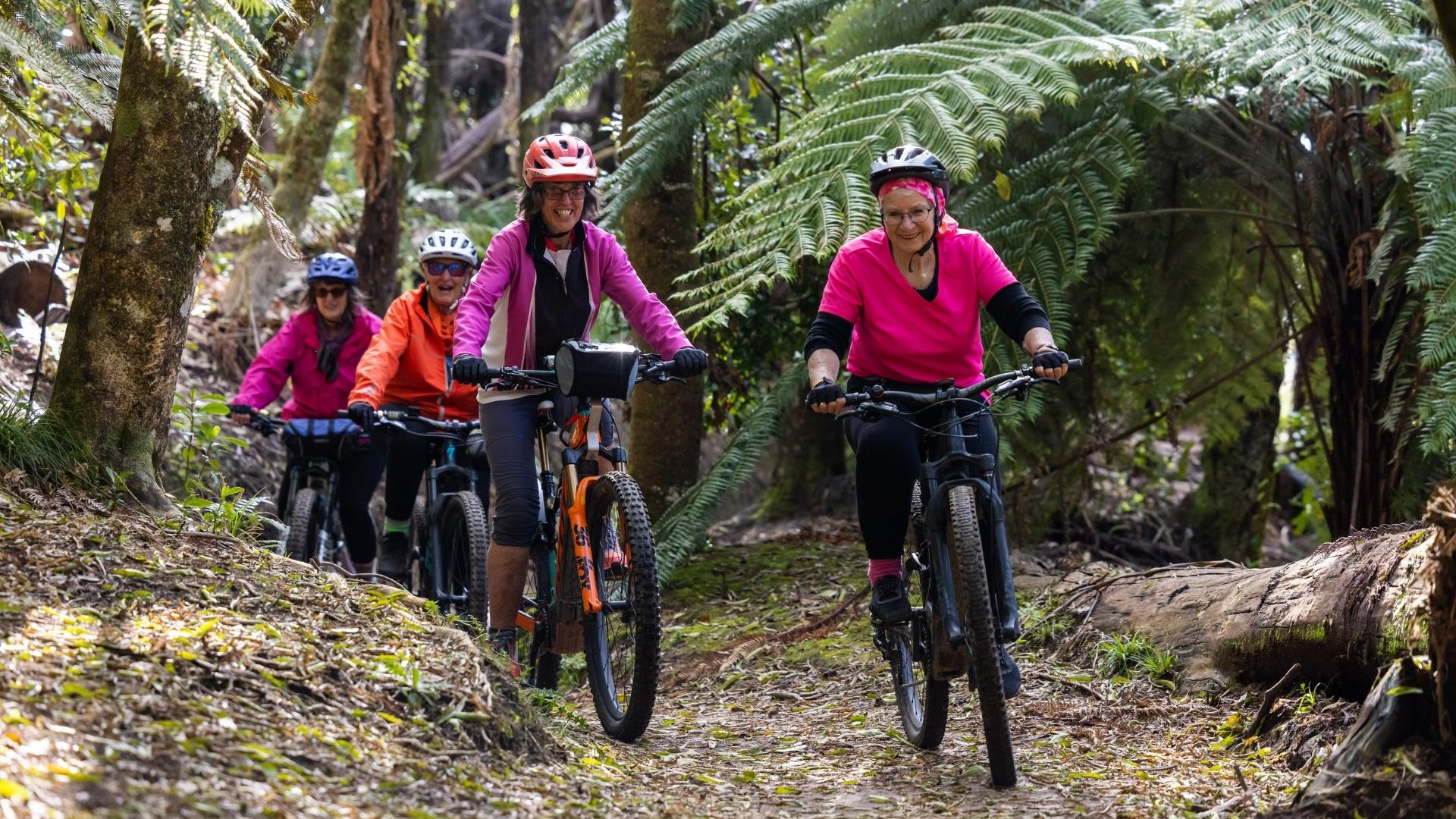 3. Be Rude Not To, Mad If You Don't, and Puerenga Stream
3km, Grade 3
At the finish of Te Poaka, you'll find a large intersection. On the south side is the entrance to Be Rude Not To. This is a fun, flowing trail that takes riders in the direction of the Waipa car park. On the way you can hang a left and cross a road to find Mad If You Don't. A little more challenging with lots of roots and tight corners, Mad will get you to the Puerenga Stream trail. A lovely little ride along a crystal-clear stream can be done as a loop: there are trails on both sides of the stream. At the end of this trail you are very close to the Yellow Brick Road trail, or head up Hill Road (don't worry, it's flat!) to the shuttle stop.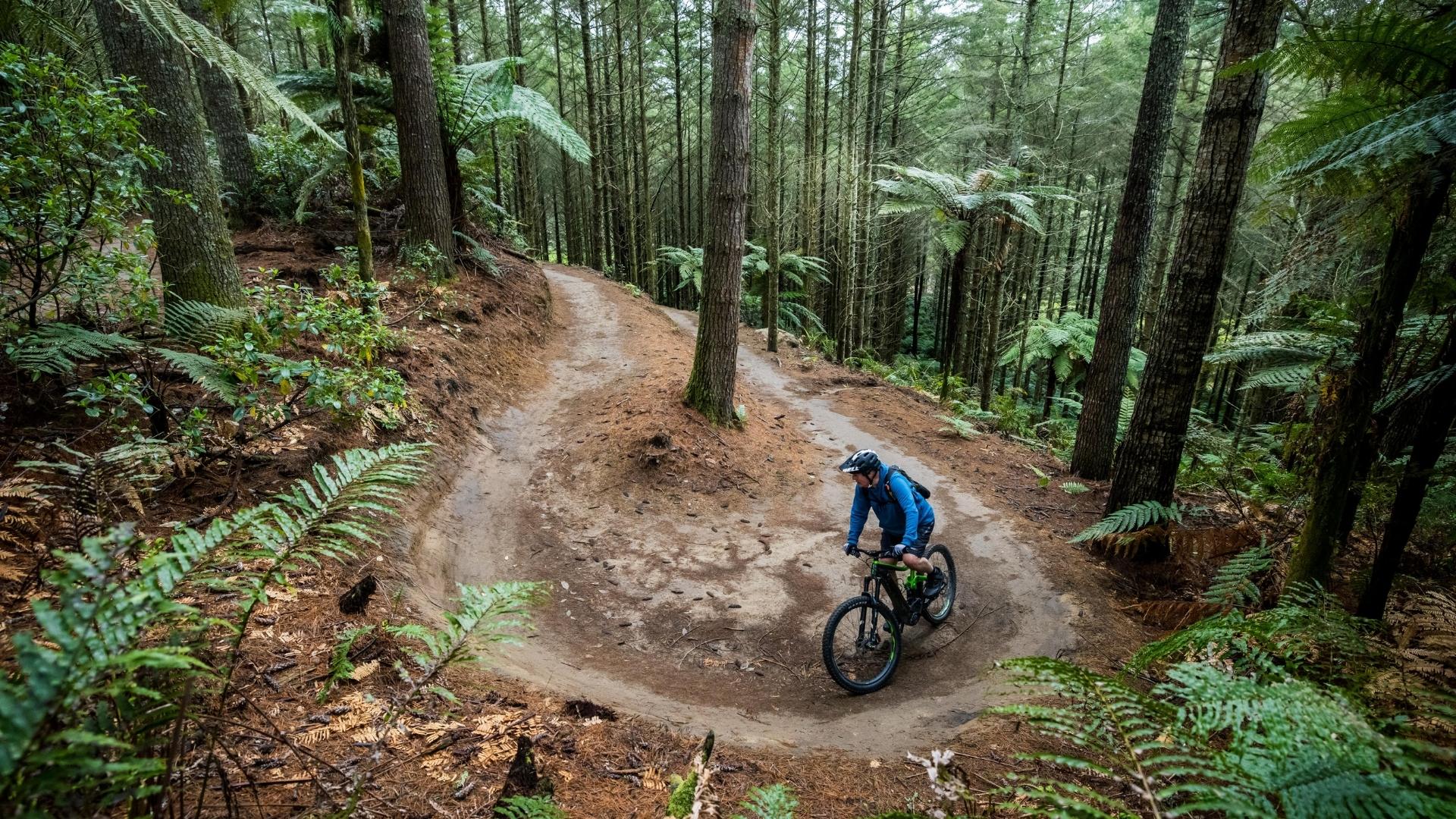 4. Yellow Brick Road & Yellow Brick Return
2.2km, Grade 3
Small but perfectly formed! Yellow Brick Road was created as a way to get 'out the back', and the return leg, aptly named Yellow Brick Return, was added some time later as a way to get back. These two trails form a short loop that is well worth riding. Beautifully benched, with gentle grades in both directions – do it twice!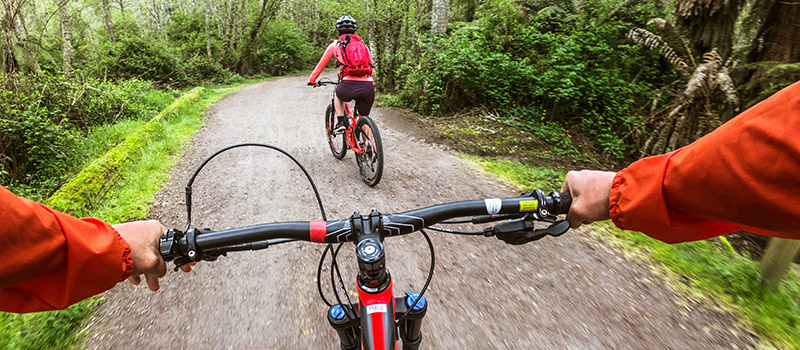 5. Corners
2.9km, Grade 3
Corners is a great way to enjoy a shuttle ride as the trail starts where the bus will deliver you at the top of Tawa. Starting with a series of sweeping bermed corners, the trail winds its way down to a road crossing, then a long and twisting flow to the end where the shuttle bus boards. A Grade 3 run with no big surprises but plenty of features to keep you on your toes, Corners will leave you wanting a repeat immediately!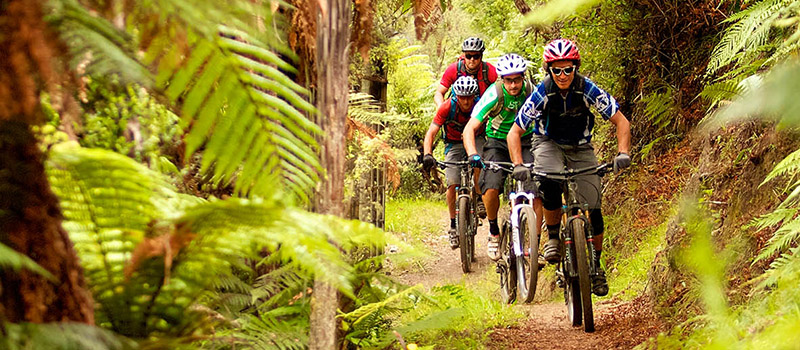 6. Eagle vs Shark
3.2km, Grade 3
This trail was the clear winner of a recent survey. More than 400 riders gave their opinions on the trails they like best, and an amazing 20% said this was their favourite. Fast, flowing and full of features, Eagle is nonetheless a Grade 3 trail, meaning there are no real challenging sections if speed is kept under control. Accessed from the top of the shuttle bus run, Eagle delivers riders to Te Pūtake o Tawa car park. There are amenities there including food and drinks on weekends, as well as water and toilets. A shuttle runs from here, so it's possible to shuttle to the top from the Waipa side, take the run down Eagle, then shuttle back up and ride the lower portion of Corners back.
7. Whaki
2.4km, Grade 3
Not far down Direct Road from Te Pūtake o Tawa top shuttle stop you will find the entrance to Whaki. This is a long and exciting run back down to the carpark, through young pines. It's a tight fit between trees, so pay attention! There is an entrance to the trail from Hill Road, which is a bit more difficult so be prepared for some steep sections. If that's not your style then head down to the lower entrance.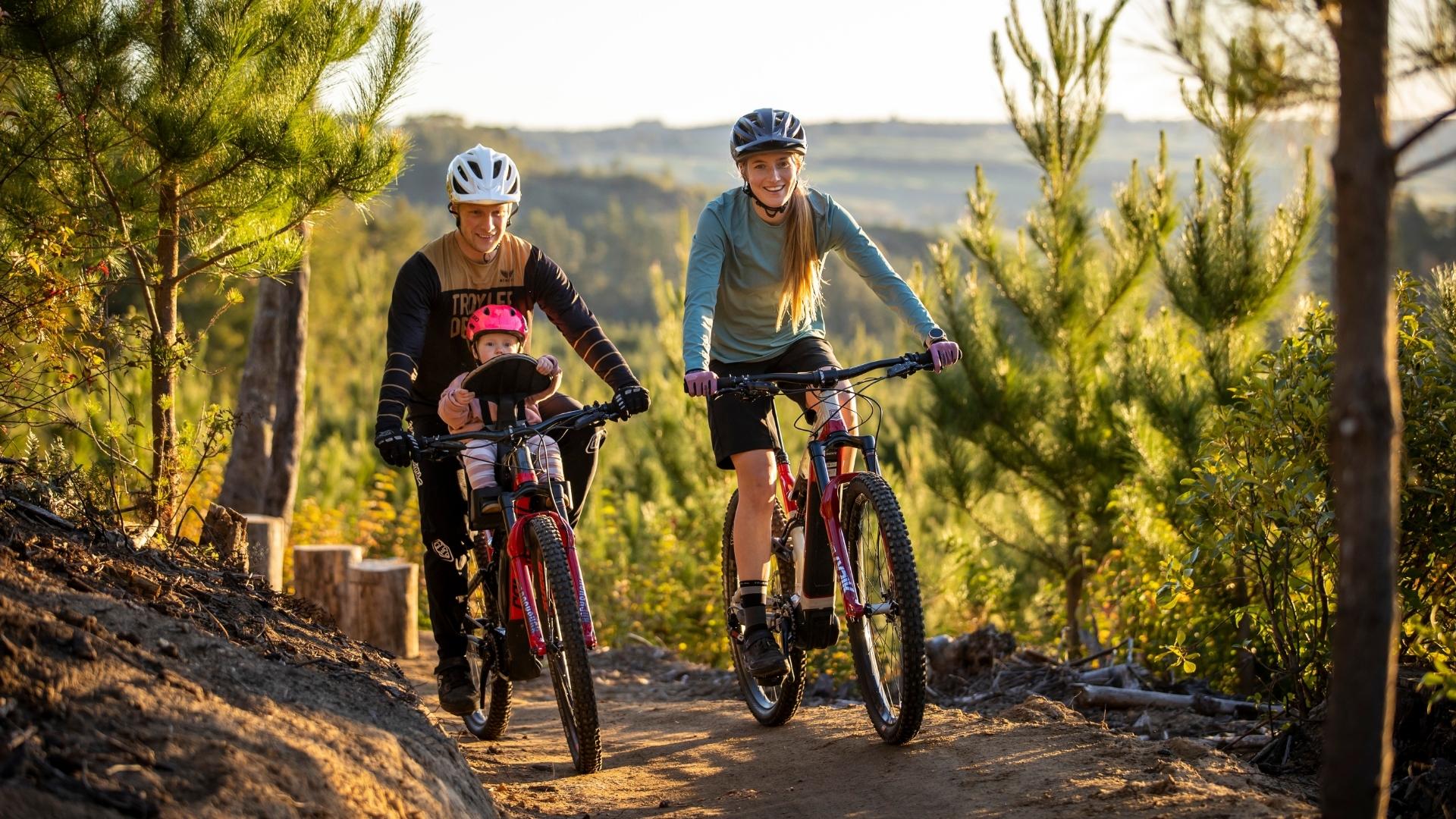 8. Tahi & Creek
7.1km, Grade 2
Starting from Waipa off State Highway 5, you can take the bridge at the north end of the car park and turn right into Tahi. One of the original Rotorua trails that remains intact after several decades, this classic meanders through mature pine forest and will take you to Creek. Aptly named, Creek is a fun trail following the side of a wetland and leads to a circuitous route through huge California redwoods before delivering you to Nursery Road, where you can continue to explore or easily return to the base.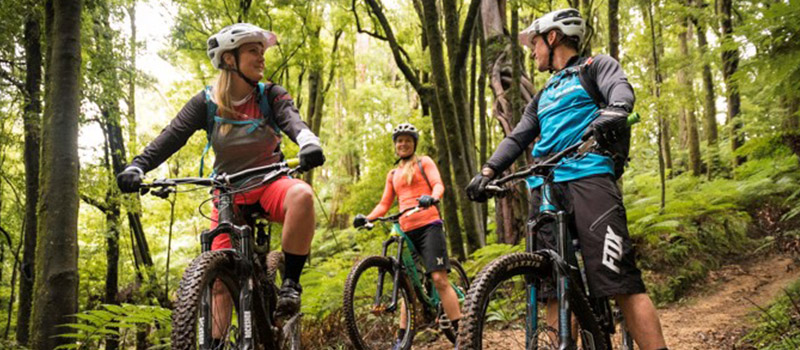 9. Split Enz & Roller Coaster
7.1km, Grade 3
Although it's a bit of a slog to get to, even old hands rate this run as one of the best things you can do on a mountain bike. Split Enz starts at the top of Moerangi Road via a short climbing trail named Time Warp. You can get to the start of Time Warp by riding up Pondy Elevator and then Moerangi Road, but be warned: it's steep and relentless ascending, you may need to walk some of it. You can get to the top of the forest much more easily by shuttle, but there is still quite a traverse and a bit of a climb to get to Split Enz. Once you have made the start of the trail, drink in the 360-degree view! On a good day you can see the snow in National Park, the expanse of the Kaimanawa Range, and a bird's eye view of Rotorua, Mount Ngongotahā and beyond. The gently downhill trail is long, exhilarating, and gets you very close to the lower shuttle stop.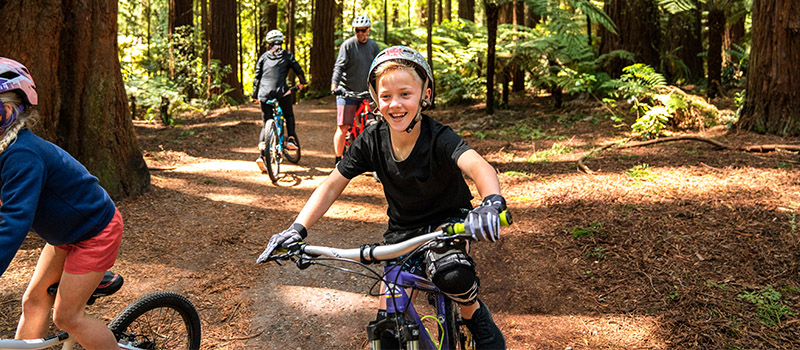 10. Kid's Loop
597m, Grade 1
Across the bridge from the Waipa car park and immediately to the right is a great little loop designed for kids. Kid's Loop offers easy straights, gentle undulations, curves, corners and a variety of forest coverage. It's the perfect introduction to mountain biking and a great way to learn and practice good riding etiquette.
Despite its name, you'll see adults on the trail too, whether first-timers or those working out the pre-ride jitters. Simply ride and re-ride until you have the confidence to move on to other Grade 1 and 2 trails nearby such as Tahi, Creek and Dipper.