Cruise passengers to Rotorua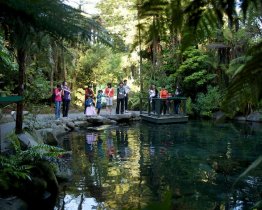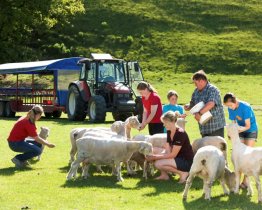 Rotorua is a short one hour drive by direct coach or 45 minutes by car inland.  
With a range of Rotorua shore excursions available to be prebooked on the ship, there are also a number of independent options for those wanting to explore 'beyond the traditional tours'. There are tour operators at the port who can provide transport and tours to Rotorua. Ask the port ambassadors where these tour providers are as you would like to book an independent tour to Rotorua.
Access to Rotorua doesn't need to be hard and here are some options on how to get to Rotorua from the ship when it docks in Tauranga:
Book a shore excursion via the shipping company's representative


Hire a rental car, available from the Port - costs approx NZ$125 for the day


Pre book and tailormake a private mini van tour with a local Rotorua guide for the duration of the visit (Starting from around $130 per person for a small group of 5 people, visiting your chosen attractions)


Hire a taxi from Mt Maunganui for the day - costs NZ$60 per hour plus attraction entrance fees. Available from the Mt Maunganui i-SITE.


Helicopter or float plane transfer - 15 mins


Take an Intercity / Newmans Coach - examples of departure times:

9.50am depart Mt Maunganui / 11.25 arrive Rotorua
3.15pm depart Rotorua / 4.40pm arrive Mt Maunganui
5.15pm depart Rotorua / 6.20pm arrive Mt Maunganui

Pick up and drop off are at the Mount Maunganui and Rotorua i-SITES


Pre book or pick up a scheduled tour on disembarkation. e.g. Rotorua Transfers and Tours, Shore trips & tours, Xquizit Limousines & Tours
The Mount Maunganui i-SITE is located at Salisbury Avenue, Mount Maunganui. Tel:  07 575 5099
For assistance with planning your Rotorua visit, email marketing@rotoruanz.com
Rotorua cruise friendly operators: